Sunye. unveils three daughters who look exactly like "The youngest Idol? Look at your skills" "Reality" Force ('My Little Old Boy')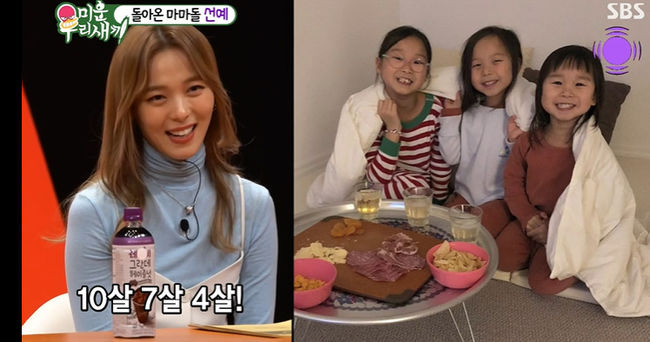 Sunye appeared in "My Little Old Boy" and mentioned her three daughters.
Sunye appeared on SBS entertainment 'My Little Old Boy' on the 6th.
On the day of the return, Mami Dolo Special MC Sunye appeared, and MCs introduced Sunye as "Marriage during Wonder Girls, mother of three daughters", and Sunye also said, "I have a 10-year-old, 7-year-old and 4-year-old daughter."
Sunye was introduced to the audition program at the age of 13 and debuted; a young Sunye was also portrayed singing SES 'Gathering Dreams'.
When asked what her youngest daughter would do if she dreamed of Idol at the age of 13, Sunye said, "I think I should see if she has talent in her ability.
I will see how sincere I am and I will tell you realistically how to push it. "
"I am in Husband and Canada now, and when I want to see my family, how do I endure?" Sunye said, "I just try not to think about it as much as possible, I fall in there, I cry, but I have a lot of video calls."
On the other hand, SBS entertainment 'My Little Old Boy' is a program that shows the moment by the mother becoming a speaker, observing her son's daily life, and recording the moment through a device called a child care diary.
'My Little Old Boy' captures