MC Mong and Lizzie, why is it cold?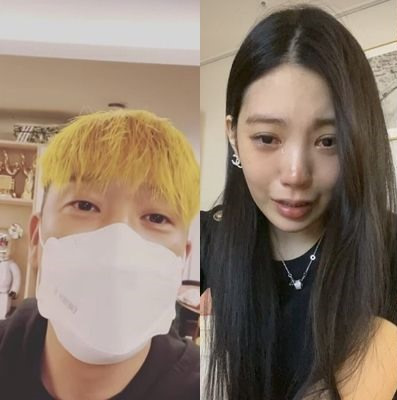 Stars who have been suspended due to various controversies are resuming their activities through SNS. Lizzie, who was in controversy over military service, has recently been attracting attention as an active SNS activity, but the public opinion is cold.
On the 13th, MC Mong posted a video with a short article called "Impulsive X X. X Nom" through his SNS.
In the video, MC Mong took off his hat and showed his yellow hair, saying, "I did something crazy again." He touched his hair and apologized, "I am completely yellow. I'm sorry."
In addition, MC Mong has been actively communicating with fans by revealing the recent situation that he is on a diet and is making a mistake about the bias decision of the 2022 Beijing Winter Olympics.
Some fans who have encountered this continue to communicate with MC Mong, while those who still react coldly to the news of MC Mong, which caused a great deal of controversy over military service, are also noticeable.
MC Mong stopped broadcasting after the controversy over military service in 2010. In May 2012, he was acquitted of violating the Military Service Act by the Supreme Court, but he was sentenced to one year in prison for six months in prison and 120 hours in community service for delaying his military service obligation by taking the examination of public officials.
Since then, he has been releasing albums and holding concerts. However, he has not appeared in broadcasting. This situation The netizens who have heard about his SNS are pouring out the response that they are "nonsense" through the community.
The reaction to Lizzie, who has been questioned by Drunk driving, is also cold.
On the 9th, Lizzie posted an article entitled "My Life Goodbye" through her SNS. Lizzie, who is self-reliant for Drunk driving, posted the article, and some people responded that Lizzie's condition was concerned.
As the Drunk driving caused the controversy, the netizens' eyes were not good, but Lizzie was worried. As the controversy grew, Lizzie said, "In 2022, "I think it has been interpreted a little differently from the meaning I want to say, and I think there is a misunderstanding."
Although the relief reactions continued because it was not a concern, Lizzie, who resumed her activities through SNS a year after being questioned by Drunk driving, is also coldly watching.
Meanwhile, Lizzie was accused of driving a car near the southern intersection of Yeongdong Bridge in Cheongdam-dong, Gangnam-gu, Seoul last May.
At that time, the blood alcohol level was known to have been the license cancellation level (0.08% or more), and was sentenced to a fine of 15 million won at the trial held on October 28 of that year.
[