'Let's go on a trip' Jang Min-ho "Jung Dong-won, do not leave the line during the trip"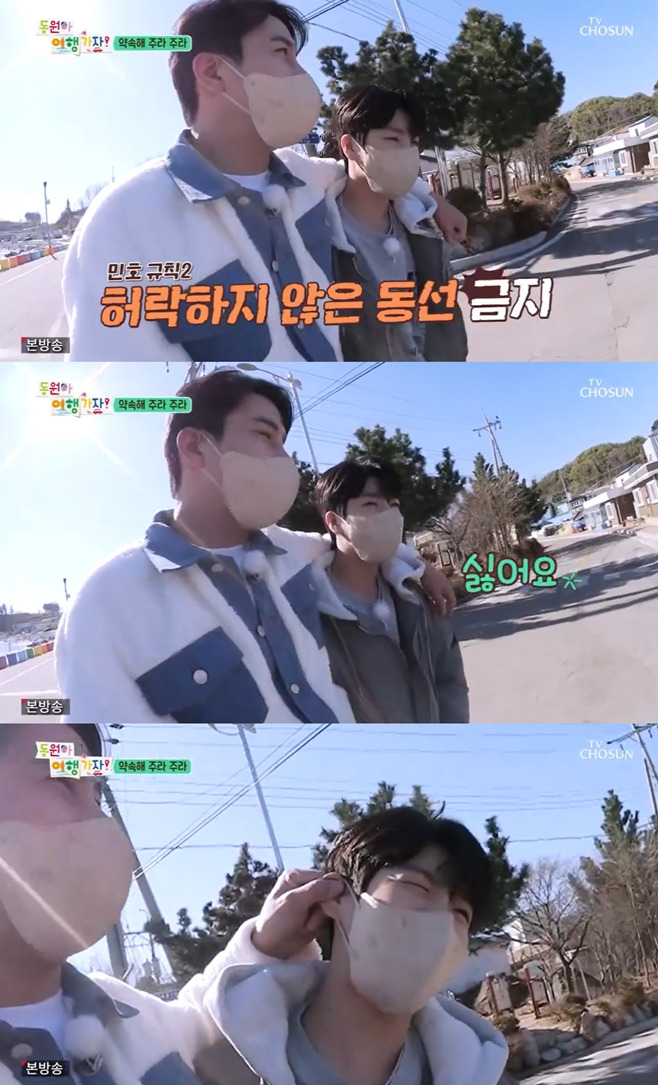 In 'Travel Go', singer Jang Min-ho revealed his desire for Jung Dong-won.
In the special section "Dongwona Travel Go" (hereinafter referred to as "Travel Go"), which was broadcast on the night of the 8th, Jang Min-ho and Jung Dong-won were shown Traveling to Gangwon-do.
Jang Min-ho went to a famous restaurant with Jung Dong-won, especially when he said, "Is there a program for North Korean defectors? The two finally arrived and applied sunscreen before getting out of the car.
Jang Min-ho, who started his full-scale trip, suggested to Chung Dong-won, "Let's set the minimum rules for Travel." Then Jung Dong Won said, "My uncle is prohibited from cuddling when he sleeps next to me." Then Jang Min-ho asked, "Did not you tell me not to turn off the fire because you were scared at the time of Mr. Trot?"
So Jung Dong-won asked, "Do not say anything when you touch your uncle's arm. I want you to do everything I want." Jang Min-ho also said, "I do not want you to choose in three seconds. Do not leave the unallowed line, and it is bedtime from 9 pm to 9 am. "