Kim Jong-guk "Yoo Jae-seok, Rich to Buy All of Luxury C Company's Products" (Running Man)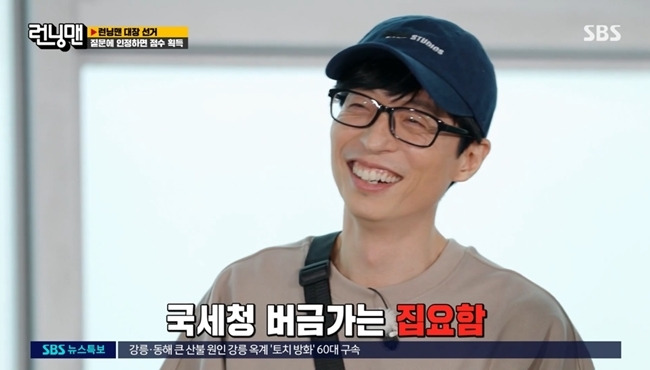 Broadcaster Yoo Jae-seok admitted coolly that he is rich.
In SBS 'Running Man' broadcast on March 6, Jo Se-ho appeared as a guest and the Running Man general election race was held.
If you are selected as a captain through the general election race, you will be named in front of the Running Man, and the age notice shot will also go out exclusively. Lunch menus can be selected without any limit for a month, and luxury bottled water is paid separately.
But after glory, responsibility follows. During his term, he must take responsibility and participate in the production meeting.
The first game is a calm game. The first runner is Jeon So-min. "I am afraid to confess that I am afraid that I will be dumped by Yang Se-chan." When the other members told me to admit to the score, Jeon So-min said, "I do not like it because it is a car, but I do not like it that much."
He also denied the question of whether there was a male guest who contacted him privately after shooting "Running Man." Jeon So-min laughed, "I never received a real number."
When Jeon So-min acknowledged that he was "Ignorant more than Yang Se-chan," Yang said, "Are you more stone-headed than me?" In Yang's continued provocation, Jeon So-min lost his composure and laughed.
Jo Se-ho quickly acknowledged the question, "I have been gossiping about Yoo Jae-seok in the private market." He said, "I have told Lee Kwang-soo that Jae-seok is uncomfortable. If a person lives, he may be uncomfortable with his brother. "
"I also have my base point," said Jo Se-ho, who admitted the question, "Both Song Ji-hyo and Jeon So-min do not get to the castle." Ji Seok-jin, who heard this, said, "What are you, my sisters are not in the castle." Yoo Jae-seok said, "Do not do it to my sisters." "If a person says he is dating you, he will not stay still. You can not," he shouted.
Yoo Jae-seok admitted the question "I have a lot of money." When asked to tell how much Yang Se-chan had, Yoo Jae-seok was embarrassed, saying, "Tell me about Property?" Jo Se-ho, who was next to him, said, "There is as much as the prize money of 'squid game'."
Yang said, "I went shopping and I like it so much. I want you to give me everything from here to there." Yoo Jae-seok hesitated and Kim Jong-guk asserted, "This is a luxury C company." Yoo Jae-seok refuted, "No, it's my Property." Kim Jong-guk shouted, "I can calculate it."
When the members asked persistent questions to infer Property such as "I can live in my 30s," Yoo Jae-seok said, "The rich are right. If I am not rich, others will swear." Nevertheless, when the members poured out unfounded rumors, Yoo Jae-seok heard the old man's name. So Ji Seok-jin said, "He's a bitch." "It's a better car than your brother," he shouted and laughed.