'I'm SOLO' 4th marriage couple born? Salary release Cost of living plan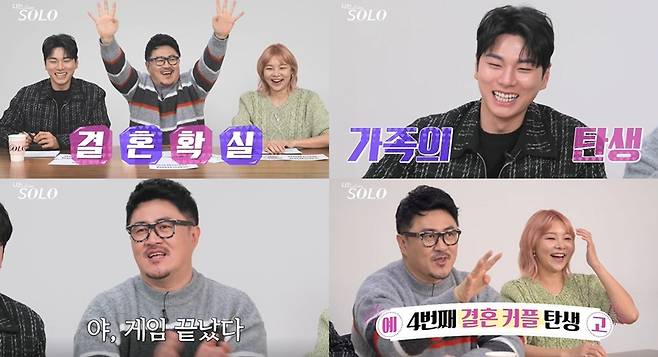 I'm SOLO (I'm Solo) is a romance that makes me feel like marriage from the 6th stage.
A reverse couple will be born, which will discuss the marriage plan by releasing the salary from SBS PLUS and NQQ's real dating program I SOLO, which will be broadcast on March 9.
A pair of solo men and women who entered the second Date are pink around the beginning of the restaurant with a perfect fit. Solo girl says, "This may be my disadvantage, but when I have a relationship, I am more interested in 'how to live if I marry' than 'what kind of Date to do'." Solo Nam immediately says, "I am so good," and Solo wakes up and expresses her joy with her whole body.
The two Tikitakae MC Defcon, who made the quiet Italian restaurant buzz, hit the "water-breeding" and immediately said, "I think the fourth marriage couple will be born."
After a while, the two of them openly light up the marriage atmosphere, including revealing each other's salaries. Solo Nam said, "How about a man who receives a monthly OO?" Solo said, "I have to plan my Cost of living from tomorrow. "We are small and medium-sized companies that walk together." 3MC Defcon, Lee I-kyung, and Songhai also shout cheers, saying, "Wow."
At the end of the Date, the soloist said, "I am so grateful to the producers," and said, "I should give you a strong marriage will because I will be broadcasting after two months, let's start with wedding photography."
3MC cries out, "Is it the birth of a fourth marriage couple?" Whether the two can make a smooth choice not only for the final choice but also for marriage, attention is focused on the romance of the sixth period.