"I'm not good enough to speak Korean...Jay Park, IU number blocker 'Ganadara'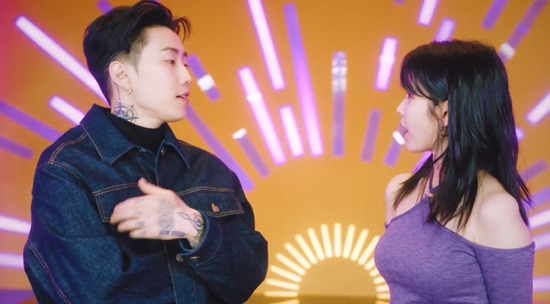 ( ) Singer Jay Park and the IU found the listeners with a more than imagined sum of voices.
Jay Park's new digital single "Ganadara (GANADARA) (Feat. IU)" with IU and Music Video were released at 6 p.m. on Wednesday.
The new song is the first single by Jay Park, who resigned from AOMG (AiomG) and H1GHR MUSIC (Hier Music) in January, to establish and release a new entertainment company, MORE VISION (More Vision).
The new song, which IU participated as a Feature artist and collected topics before its release, featured Jay Park's new charm. 'Kanadara', which can listen to the beauty of Jay Park, not rap, is a sweet love song that can be easily heard in the R & B genre. Jay Park and IU each complete the song with a harmony that is more than expected while digesting the song with their own sensibility.
The lyrics contained frank contents of those who wanted to start a relationship. Jay Park says, "I am not good at Korean / Translator is not helping at all / I am worried about what you want to say," "I don't know what to say / what to say I don't know" and the IU wants to encourage first, saying, "I do not have to be too perfect / Don't worry.
Especially, the witty Music Video, which features Jay Park's hot performance (?), adds a smile to this song that is just audible to listening. Jay Park in Music Video promises to join Music Video by showing off his friendship with IU in front of his employees, but he is in an emergency because IU does not come on the day of shooting.
Jay Park, who was eventually filming Mannequin, Panel IU and Music Video, decided to block the IU contact and even shed tears. The story of the IU that appeared at that time makes the music video film a festive atmosphere, and the two chemis of the two people as sweet as the voice are the bonus.
Photo: Jay Park 'Ganadara (GANADARA) (Feat. IU)' Music Video