"I'm Not Betraying Original Fans" "The King of Pigs" (Comprehensive) Re-created in the 12-episode Drama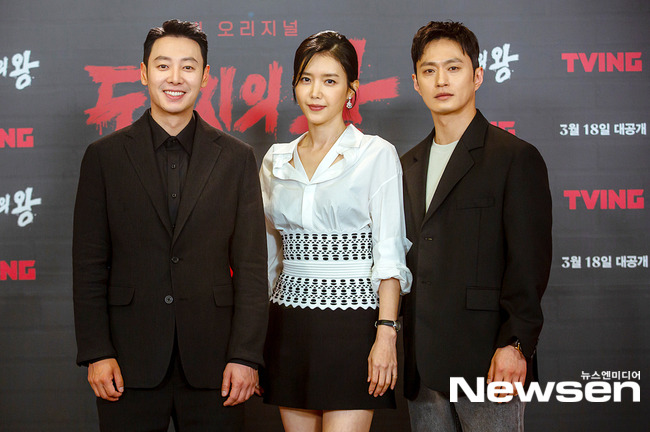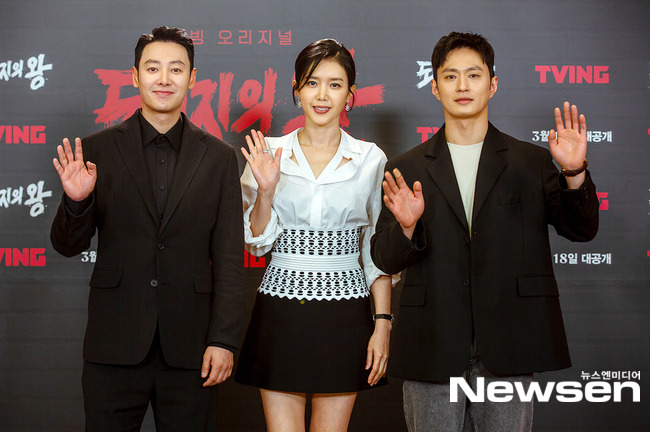 Anime 'King of the Pigs' is reborn as a Drama.
The online production presentation of the original Teabing "King of the Pig" (playplayplay by Tak Jae-young/director Kim Dae-jin and Kim Sang-woo) was held on March 15. Lee Jae-moon, Tak Jae-young, actor Kim Dong-wook, Kim Sung-gyu and Chae Jung-an attended the production presentation.
The 'King of the Pig' is a tracking thriller about those who took out the 'memories of violence' from a friend's message 20 years ago left at the scene of a serial murder. Based on the same name Toei Toei animation directed by Yeon Sang-ho.
Lee Jae-moon, the producer of the original Toei Toei animation Drama, said, "It has been a long time since I had an exchange with director Yeon Sang-ho. When I was doing the OCN Drama 'Save me 2', I remade the 'Psychic' of director Yeon Sang Ho, but when I said 'What do you think of the 'Pig King'?' I was worried about which media to accept it, but I saw the script of Tak Jae-young and made it without doubt. "
Regarding the reaction of director Yeon Sang-ho, he said, "Thank you so much that I really enjoyed it and cheered me a lot." Thank you for introducing good works. I could not go beyond the original, but I made it a new Drama. I hope you will have fun. "
What is the difference between Toei Toei animation and Drama? Tak Jae-young writes, "There are two things that I have recalled while writing a script. I was also a fan of 'Pig King' and it was a popular work, so I had a thought not to betray the original fans, and I thought I should write a script so that those who do not know 'Pig King' and those who have a little distance can enjoy it. I took the original message and thought about rebooting the adult amount which was about 20% in the original. I thought that I would like to be able to see the first time I saw it with immersion by strengthening the fun of the tracking thriller. If the original story is a story that reminds me of the past, I think I can concentrate on how I live and change as an adult in the Drama. "
Lee Jae-moon, the producer of the Drama, said, "The original aura is so strong. It can be a very dark and uncomfortable story. We are a TV show and we have to show it for 12 hours in 12 episodes, so we focused on whether it can be interesting. He made a character of Kang Jin-ah and cast Chae Jung-an because he needed a more objectified character. Also, Kim Dong-wook (played by Hwang Kyung-min) and Kim Sung-gyu (played by Jung Jong-seok) are very similar to being chased and chased during the play. We are going back to the days when we were suffering together because of each other's fate. In the process, we wanted to raise the emotional amplification to the highest level unlike the original. "
"The King of the Pig" is a story about school violence. Kim Dong-wook said, "Many thoughts and feelings crossed. I felt that I had to approach carefully throughout the filming, express and postpone it seriously. (Hwang Kyung-min) is a person with a narrative, so I was worried because there is a heartbreaking story and a social message is delivered in the background. "It was not easy to play (to play) what to draw as a character or what to draw."
Tak Jae-young writes about "The King of the Pigs": "Pigs are allegorically symbolic animals. I think they are a representation of tragic phenomena. "The King of the Pig" is like a title that explains the process of people who have to live the life of the weak and want to make someone a hero and escape reality. "I thought I wanted to share various troubles with viewers. I wrote with the idea that I would like to think about why I am divided into strong and weak, violent, where the violence came from, and with viewers. "