'goddingumpa' Three Mom Kim Ji-woo A sad family history ..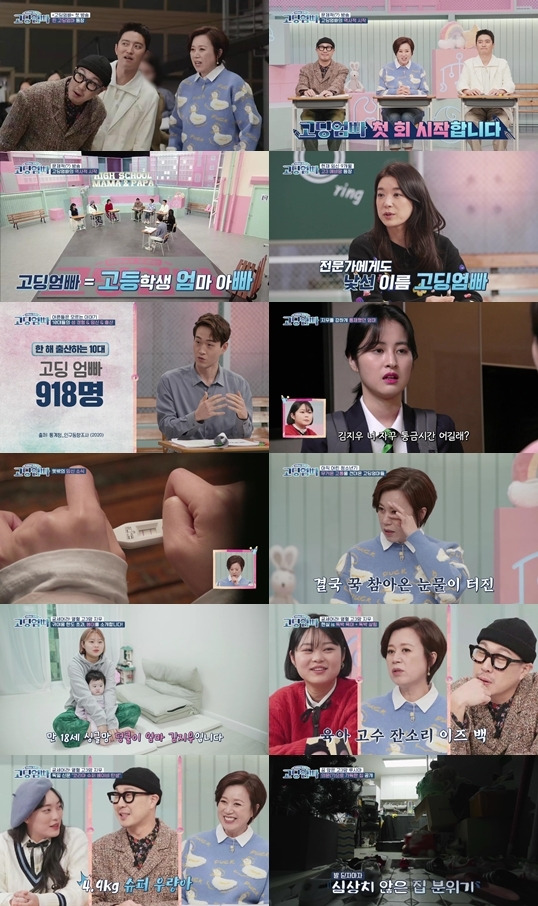 (Seoul =) = The story of Three Mom Kim Ji-woo was revealed in 'goddingumpa' and received a hot cheering from viewers.
In the first MBN new entertainment "Goddingumpa" (hereinafter referred to as "goddingumpa"), which was first broadcast on the 6th, three "Godding Moms" who became parents in their teens appeared in the studio for the first time, and 3MC Park Mi-sun Haha In Gyo-jin, psychological counselor Park Jae-yeon and Sex education instructor Lee Si-hoon were seen meeting. They were honest about the sex culture of teenagers, and they told the stories of each parent in their teens, and they were shocked and embarrassed at the same time.
As the theme of 'Ten Sexual Cultures', 3MC showed a complicated story from the pre-meeting. Park Mi-sun said, "It is not easy to understand that middle and high school students become mothers and fathers," Haha said, "Imagine is dizzy," and In Gyo-jin said, "Do you really have a lot of goddingumpa? I've never seen it before," he said frankly.
On the first recording day, they watched three "Godding Moms" who were seated in the studio from afar, and they were surprised that they were "like students who visited the broadcasting station" and "they look younger than Age". After a while, Park Mi-sun greeted the three "Godding Mom" people and asked for his introduction.
First of all, Kim Ji-woo, a fresh hairstyle hairstyle, said in a trembling voice, "Three mother who is raising 11 months daughter spring." Irucia, who wrote Beremo, said, "I am the mother of my 22-month-old son Yu-joon, and now 21 years old." Finally, Park Seo-hyun, who was dressed in uniform with his full body, announced, "Child birth in early March by 34 weeks of pregnancy; 19-year-old pre-mam (pre-mother).
The three people, including Kim Ji-woo, said, "I have a negative perception of 'youth parents' socially, but I wanted to change it." Irosia also said, "I wanted to be a dignified parent to my child," and Park said, "I still wanted to show my parents that they are doing well because they are against (Child Birth).
After the introduction of three people, Sex education instructor Lee Si-hoon asked Park Mi-sun, "How much youth parents are in our society?" "As of the National Statistical Office in 2020, 918 teenagers are in Child Birth. There are 11 parents under the age of 15. " About the first sexual experience Age of Korean youth, it was called 'average 13.6 years old' and surprised 3MCs. In addition, Lee Si-hoon added, "Sex experience is familiar to teenagers these days, and sexual experience among friends is considered as a label, which is also a standard for sharing inssa (inssader) and outsidader."
There was also a time to point out the knowledge of sex education that teenagers are mistaken about and the current sex culture of teenagers. Yoo Jun said, "When the situation gets closer, there are many cases of contraception by in vitro assessment." Haha, who listened to it, emphasized that "the Cooper solution that comes out when a man is excited can be a pregnancy." In particular, Lee Si-hoon, a lecturer, said, "There is also a situation in which parents of pregnancy friends come up and write a 'pregnancy discontinuation agreement'. The market price is 3 ~ 500 million won. "
Following this, the story of 'Three Mom' Kim Ji-woo becoming a mother of a child was unfolded in the form of 'reenactment drama'. Kim Ji-woo was stressed by the serious interference of her 'walking mom' mother who raised herself alone. Kim Ji-woo even made extreme choices due to her breathtaking interference and distrust of herself, but her mother Admissioned her daughter to a mental hospital. Kim Ji-woo, who was released after nine months, wandered away after learning about her mother's remarriage, and started working part-time, but had a child while dating a man she met here. Although he was hurt by the mother of his parents, Kim Ji-woo could not give up his child, and with the help of For Keeps Center, he gave birth to 'spring'.
Kim Ji-woo's Chest sick story has made everyone blush and has not been able to talk for a while. Park Jae-yeon, a counselor, said, "If anyone is entirely on my side, I can live the world. Such an object is called 'self-object' psychologically, but Kim Ji-woo did not have a self-object. There is a lot of support in institutional, emotional and financial terms so that (Kim Ji-woo) can play a healthy mother's role, "he urged social attention.
Even in a difficult environment, Kim Ji-woo showed her life with her daughter, Spring, and she was raising her child alone, but she also played with her. The former cast members exploded 'a huge smile' in the appearance of a cute spring that eats well without being unfamiliar.
On the other hand, the 22-month-old "Yoo Jun-yi" mother, Irucia, was revealed, and 3MC was surprised at the state of the house without any hesitation. I have to clean it up. "Irucia's detailed circumstances and childcare routines were passed to the next week's broadcast, and the first episode of 'goddingumpa' was completed.
'Goddingumpa' is broadcast every Sunday at 9:20 p.m.