'Gag concert' to rise to 900,000 YouTuber 'shortbox'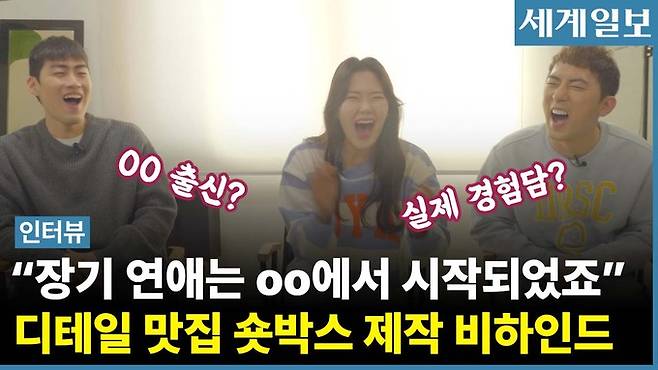 Everyone has once experienced a daily section of the material, and it has hit a big hit with a 5-minute contest comedy. Among them, the Long-term Love series, which tells the story of a couple in their 11th year, has accumulated more than 10 million views.
Shortbox is operated by Kim Won-hoon (30th), Cho Jin-se (31st) and Eom Ji-yoon (32nd), who are from KBS bond comedians. KBS 2TV public comedy Gag Concert, which they had been involved in, was abolished in 2020 and had a hard time, but it got back to its feet.
"It is a pity that the abolition of the Gag concert is a pity, but it has created a goal that we can work harder," Kim Won-hoon said.
On the 17th of last month, I met these three people at the short box office in Mapo-gu, Seoul. I listened to the troubles after the abolition of Gag concert, which I had been involved in with the short box production process, and the driving force that could endure the difficult times.
"I was just looking at my cell phone (because the meeting was not going well), and I suddenly thought, "How do you think a couple who have met for a long time will be dating? For example, a man might make a burp look naked."
"I did it! I actually turned it off very dirty."
Kim Won-hoon: "(There) Ji-yoon got to start (the series) with the situational drama as he said, 'Will it break up?'"
"I have experience and I have a lot of empathy when I melt conversations and behaviors with my friends into the contents."
"What if (couples) have been dating for 11 years? They're so virtual."
Kim Won-hoon: "There is a scene in the 'Daesil' where the main characters say 'Do next' because there is no Condom. Usually, there is a Condom in the motel, but (I) asked my friends and they said they don't use it. So the couple goes to a convenience store and buys a Condom, and there is a comment saying, 'There is a Condom in the motel.' "
Eom Ji-yoon: "'Would you like to go to the motel?'' Couples ate rice, but there was a stove next to me (the heroine). The set was so cold that I had a stove, and the comment said, 'My boyfriend took care of his girlfriend and put a stove on the woman's side.'"
"The first feeling I had was betrayal, and I had dreamed of it all my life, and when I said it was gone, I thought, 'What am I doing?' and 'What am I supposed to do?'"
Kim Won-hoon said, "I was saddened the most. I gave all of my twenties. I was over 30 years old at the time, but I did not seem to have achieved anything. It was a shame, but we wouldn't have had a harder goal if we hadn't had a hard time."
"I was actually Won-hoon, and I think it would be hard to do it alone, but when you were there, I was able to hold on to (dreams) somehow. If I was alone, I think I'd have a lot of variables in the middle."
Kim Won-hoon said, "I talk about it a lot, because there were so many people who did not recognize me even though I prepared a lot of corners during gag concerts. But (here) he was a partner, and the praise was that he made the whale dance, and I was a whale."
"I think a comedian colleague can do a lot of good content, and I want to enjoy the revival of sketch comedy together."
Cho Jin-se said, "We do not just do well, but we want to be together."