'You Quiz on the Block' Kimna-young, Kim MY Q reference is also natural "Life is warm"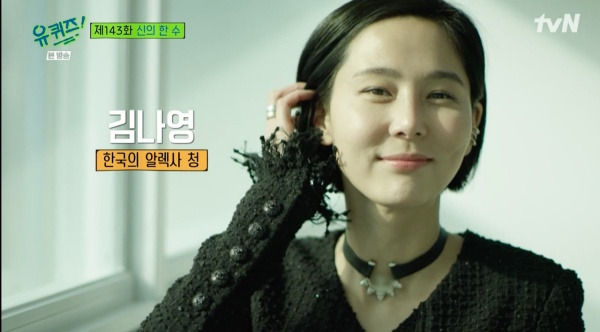 On 'You Quiz on the Block', broadcaster Kim Na-young showed his face as a fashionist and trendseters.
The 143th episode of the TVN entertainment program "You Quiz on the Block" broadcast on the 23rd was featured as a special feature of "God's Hansu".
Kim Na-young appeared as the second guest of 'You Quiz on the Block' on this day. He dreamed of Alexa Chung of Korea and he ran the YouTube channel 'Kimna-young's No filter TV' and boasted a strong fashion awareness that boasts more than 500,000 subscribers. Girls group Black Pink Jenny and actor Kim Goo Eun sponsored a costume for Kim Na-young's 'You Quiz on the Block' at the high-end luxury brand C company as a public relations ambassador.
His start was on the Mnet street broadcaster. Kim Na-young, who heard the sound of 'second Noh Hong-cheol', started broadcasting in earnest and enjoyed his first day with entertainment with Yo Jae-Suk such as 'Come to play' and 'Happy Together'. The combination of Yo Jae-Suk, Kimna-young and Jo Se-ho also stimulated nostalgia with the combinations that were seen in the past 'Nollawa'.
Kim's interest in fashion also began during "Come to Play." He said, "I had a dream about fashion from the past, I always painted it while broadcasting." However, he said, "When I was broadcasting, the character became hard and I was gone. Sometimes I thought, 'Who am I?'"
Kim Na-young began to walk the path as a fashionista through 'Stylog - Fashion God' in a time of trouble. Kimna-young, who attempted to advance to Paris Milan Fashion Week through the program, said, "At that time, I walked everything. I sold my car and bought a bag. I can not forget the day I bought the bag. It was too much money for me at that time. "
"Ironically, when I bought the bag and put it down at home, I contacted PD. I thought I should get off. Park Myeong-su also told me, 'I can't get away with this and I can't get away with it.' But I wanted to do this too much. Of course, I did not know that it would be so good, but I was not invited at the time, but I had to take a picture, so I was working hard.
Actually, Kim Na-young was recognized for his skills and affection by decorating the main sites of magazine sites at Paris Milan Fashion Week, which he first visited. As a result, I have been steadily knocking on the fashion industry. Currently, Kim Na-young's YouTube channel has also been loved by various fashion contents. Especially, the 'I'll just wear' corner, which visits a brand's store and wears various costumes and accessories directly, is gaining popularity. Thanks to this, Kim na-young donates YouTube revenue every year and has a good influence.
Jo Se-ho is sending Kim na-young news every day by message. Jo Se-ho said, "I think it will be burdensome to contact anyone who has good news." He carefully mentioned the situation of Kim Na-young, who is openly devoted to singer and painter MY Q. Kim na-young was shy and shy, saying, "It's not like that."
Finally, Kimna-young said, "I want to grow old nowadays, and the people who are next to me are inspired by me and they have a good influence on others. I think it would be nice to do that. "I think there are warm days in my life these days. I am happy. I promise to enjoy these days a little better. "
TVN screen.