'Thirty, Nine' First broadcast to Jeun Mi-do death notice? Son Ye-jin Yoon Woo-jin One Night 'sleeping'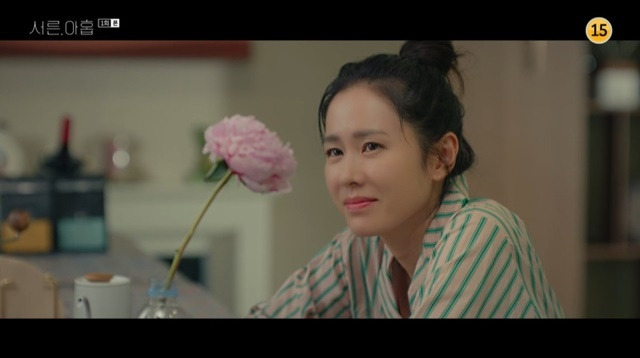 Son Ye-jin and Yeon Woo-jin began their fateful romance amid the foreshadowing of the death of one of their three friends, Son Ye-jin, Jeun Mi-do and Kim Ji Hyon.
On February 16, JTBC's Drama 'Thirty, Nine' (playplayplay by Yoo Young-ah/director Kim Sang-ho) was released on the 16th of February, and the death of one of three friends opened the drama.
39-year-old Cha Mi-jo (Son Ye-jin), Jung Chan-young (Jeun Mi-do), and Zhang Xi (Kim Ji Hyon) shared massages, ate tteokbokki, and met at the age of 18 and opened the drama with an inept appearance that had lived as a best friend for 20 years. But soon, the place was changed from the appearance of three friendly friends to the funeral home, and three men, Sun-woo Kim (Yeon Woo-jin), Kim Jin-suk (This is life), and Park Hyun (Lee Tae-hwan), came to the funeral home.
At the same time, Chamijo said, "We met each other and learned intense love. We met our first parting for 20 years. I didn't know that any of us would have a funeral at the end of our 30s. It is the story of our fierce time when we laughed and cried a lot. "He predicted the death of one of his three friends.
Then, back in time, the daily lives of three friends were drawn: Chamijo, the dermatologist, was doing Wen Junhuibi, who would spend the sabbatical in the United States. Cha Mi-jo's sister, Cha Mi-hyun (Kang Mal-geum), showed her brother's stupid side even though she told him that her brother Cha Mi-jo was "adopted" without hesitation. The first meeting of three people, Cha Mi-jo, Chung Chan-young, and Zhang Xi, was also related to adoption.
The 18-year-old Chamijo first met with Contingencich Chung Chan-young on the subway to find his mother when he saw the name of a restaurant in the nursery school documents. And the real daughter of the house was Zhang Xi. Three 18-year-olds became best friends for 20 years, and together they made friendships by volunteering at the nursery school where Chamijo lived. Cha Mi-jo and Sun-woo Kim first met at the nursery.
Sun-woo Kim had a second meeting with Chamijo delivering the wrist clock that Chamijo left behind, and Chamijo returned the peony flower with a drunken state. The third meeting between the two is a classical concert. Sun-woo Kim was surprised by the sudden development of the promise and when he met Contingencich Chamijo after watching the performance alone, he said, "Do you want to go to see the potion?" Chamijo admitted to being attracted to Sun-woo Kim's house while being embarrassed by the sudden development. The two made love at Sun-woo Kim's house, but Cha Mi-jo rejected Sun-woo Kim's proposal to meet again.
Chung Chan-young had a long-time love Kim Jin-suk, who came to Chamijo's alumni association brother to return the CD to Chamijo, but at first sight he was struck by Chung Chan-young. Kim Jin-suk, however, broke up with Chung Chan-young due to studying abroad, and Kang Sun-ju (Song Min-ji) became pregnant and marriage. Nevertheless, the love of Kim Jin-suk and Chung Chan-young, who returned from studying abroad, was not over, and Cha Mi-jo repeatedly recommended a farewell to his friend Chung Chan-young, saying, "Affair."
A new connection was also implied to Zhang Xi. Zhang Xi glanced at the new restaurant in the neighborhood, Wen Junhui, and ran away with his eyes meeting with Park Hyun (Lee Tae-hwan). Wen Junhui, a former hotel chef, was an acquaintance of Sun-woo Kim, and the identity of the dermatologist Kim Jin-suk introduced to Chamijo at the end of the broadcast was revealed as Sun-woo Kim, revealing that the three men also had a relationship.
Chamijo was surprised at the reunion with Sun-woo Kim when he went to see a doctor to take charge of the hospital while he was having a sabbatical. At the same time, Chung Chan-young decided to end his long love by saying farewell to Kim Jin-suk as promised to Chamijo.