"Overd Exposure and Bizarre Dress...Kim Jung-min, Why Park Sang-min Was Stopped on Broadcasting" Confessions ('T.')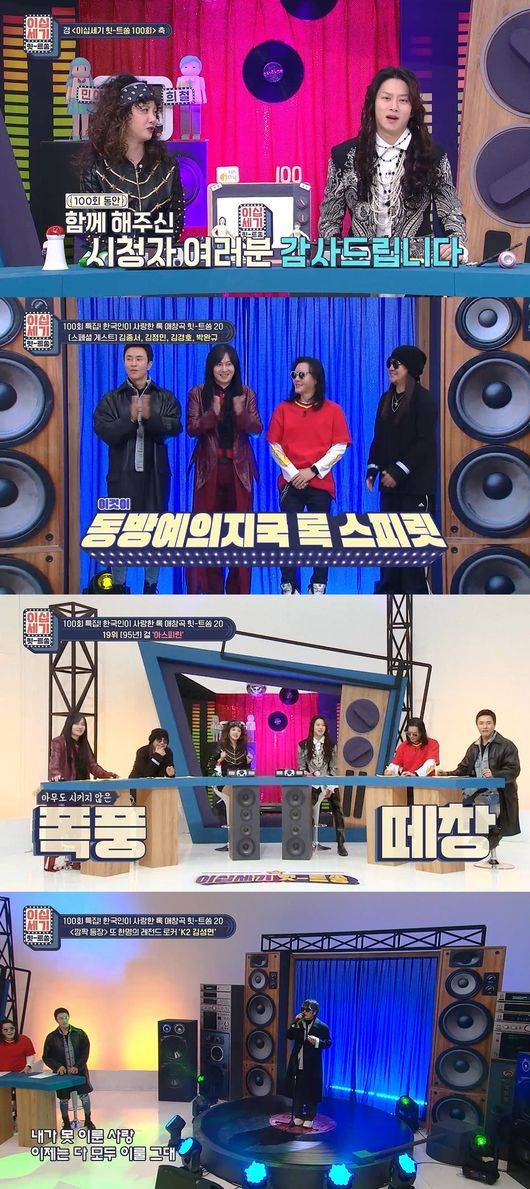 "Twentieth Century T." has brought the excitement of viewers to a peak.
KBS Joy 'Twentieth Century T.' (hereinafter referred to as 'T.'), which was broadcast on the afternoon of the 18th, met with viewers on the theme of 'T. 20, a rock song that Korean loved'.
On this day, 'T.' was featured 100 times as a rock genre that received the most love from viewers. Here, Kim Jong-seo, Kim Jung-min, Kim Kyoung-ho and Park Wan-gyu, who are proud of Korean rock, have become more and more spectacular. The four competed in a tight ranking for their famous songs, and each time the ranking was released, they showed high quality.
The four rockers also revealed their behind-the-scenes during their 1990s activities. Kim Kyoung-ho said, "I was caught in a long-term crackdown." Kim Jung-min said, "Park Sang-min broke his promise not to wear sunglasses on live broadcasts. I've been suspended from broadcasting since that day," he added. They also laughed at the news at the time when they expressed the fashion of the singers as "excessive exposure and bizarre dress" and "embarrassment".
'T.' The 100th special feature was enriched with the original song "Kim Jung-min" and Kim Kyoung-ho version of "Sad Covenant" and Kim Jong-seo's "Beautiful Restraint" stage. Kim Jung-min, who showed the 'Migan Changing Law' in particular, said, "It is Botox in the middle of the day." Kim Kyoung-ho has opened the atmosphere by revealing the personal period of 'I hate you', which became a national buzzword because of the highland.
In addition, K2 Kim Sung-myeon, who ranked 12th on the chart with 'Her Lovers', presented a surprise stage. MC Kim Hee-chul, Kim Min-ah and the rocker four were excited about his appearance. Kim Min-ah said on the live stage of Kim Sung-myeon, "It seems to be tears." Kim Sung-myeon, who celebrated his 30th anniversary this year, told viewers, "I want to see you at the concert hall."
The 100th special is not the end here: next Friday night's second round is set to take place. The famous songs that ranked first from 10th on the "Rock Affair T. 20" chart that Korean loved can be found on KBS Joy 'T.' at 8 pm on the 25th (Friday).
On the other hand, in the 20th place 'Rock Affair T. 20', 20th place Lee Duk-jin 'One thing I know', 19th place girl 'Aspirin', 18th place Shin Sung-Woo 'After Love', 17th place Crying Nut 'Malal Run', 16th place K2 'Sadly Beautiful', 15th place Strong acids 'Rame', 14th place Kim Jung-min ' The Pleasant Covenant, 13th Flower 'Tears', 12th K2 'To Her Lovers', and 11th Kim Jong-seo 'Beautiful Restraint' were on the chart.
KBS Joy 'Twentieth Century T.'