MAMAMOO Hwasa, Airport Thieves Cocaine Dance...It's also blown ('SNL')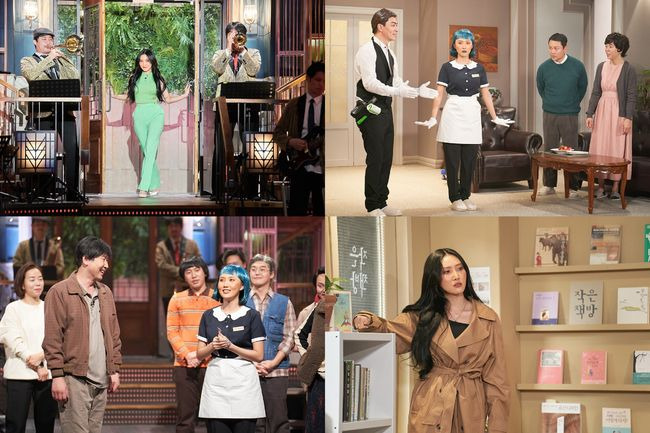 Kupang Play's original comedy show SNL Korea Season 2 (production Aestori), which delivers high-quality laughter with outspoken satire, parody and fresh humor, is drawing hot attention with its seven-time broadcast with host Hwasa.
Artist Hwasa, who has been performing in a row with music, advertising and entertainment due to his irreplaceable personality and charm, is making headlines on the 7th episode of SNL Korea Season 2 on the 12th. With his natural talent and talent, he played perfect dance and singing, as well as unstoppable parody and unexpected concert performance, and once again lit up the heat on Saturday night.
In the digital short corner of the parody of various YouTube scenes, the timid new YouTuber 'Stator' is reborn as a professional YouTuber. Under the setting, the audience has been attracted to viewers with endless anti-war charms from memories of ear yomi dance and sea grapes to airport thieves and cocaine dances.
In the corner Notting Hill, Hwasa transformed into None top star Hwasa in search of her ex-boyfriend Shin Dong-yeop, and added surprise by perfecting her brilliant concert performance with Legend Crew Shin Dong-yeop and Ahn Young-mi. On the other hand, AI Character 'Giga Maria', which was created with a unique sense, is also gathering topics. With intense visuals, addictive tone and super high tension, he showed his imagination-transcendence cleaning mode and warmed up the heat of Saturday night with the chemistry of the hallucination with Gigafuni Jung Sang-hoon.
SNL Cruisen, who offers a laughing bomb with fresh ideas and sensual comedy every week, also attracts attention.
In the 2022 New Year's special nature documentary series The Tears of Women, not only the rejuvenating real-life sympathy points, but also the cheerful laughter of Kruzin, including Lee Soo-ji and Joo Hyun-young, with the acting of the next life. In the corner Power Diary, which was attended by legend crew Shin Dong-yeop, Jung Sang-hoon, Ahn Young-mi and Kim Min-kyo, who believe in it, witfully unraveled the TV debate for the presidential candidate, which had a hot topic, and proved the presence of an irreplaceable high-quality comedy show.
SNL Korea Season 2, which is adding heat on Saturday night with different levels of laughter, will be released every Saturday night at 10 pm through Kupang Play.