'Jun Hyon-moo' Lee Hye-sung, a meaningful post on SNS, "When No More Him"...What's What?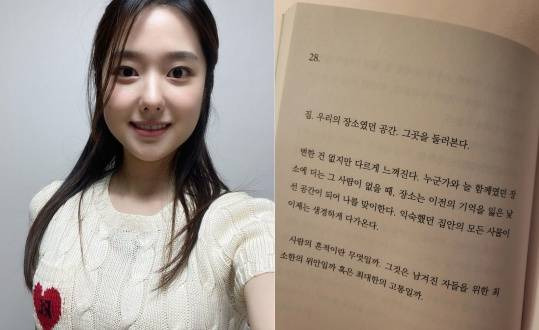 Broadcaster Jun Hyon-moo and Lee Hye-sung, a public-devoted broadcaster from Announcer, posted a meaningful post on SNS.
Lee Hye-sung recently posted a picture of a page of a book she was reading on her Instagram account.
In the book he took in a photo, there is a sentence saying, "When there is no more person in the place where I was always with someone, the place becomes an unfamiliar space that has lost its previous memories."
In the sentence expressing the lonely feelings after the farewell, the netizens commented on Lee Hye-sung's change of mind and cheered him up.
Meanwhile, Lee Hye-sung joined KBS 43 as an announcer in 2016 and appeared in 'Entertainment Artist', 'Challenge! Golden Bell'.
In 2019, he admitted his devotion to Jun Hyon-moo, a 15-year-old man, and the following year he left KBS and declared freelancer.