"I don't want to date you once slept" Song Kang, a straight-line Confessions 'Simkung' (Forecasting Love and Weather)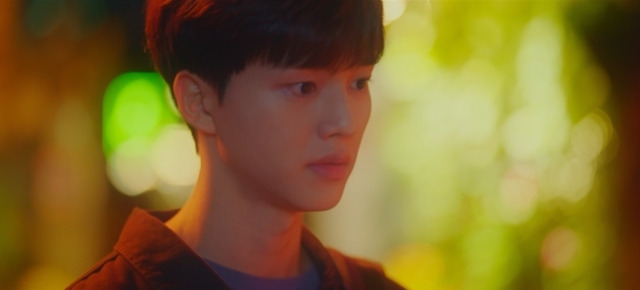 Song Kang, who did not ask to date once, made a straight Confessions to Park Min-young and heightened romance.
In the third episode of JTBC's Saturday Drama 'Forecasting Love and Weather: In-house Love Cruelty Scene' (playplayplay by Sunyoung and directed by Cha Young-hoon), which was broadcast on February 19, Jin Ha-kyung (Park Min-young), who became conscious of Isiu (Song Kang) after One Night, was portrayed.
Jin Ha-kyung, who had been in the morning after one-night, rushed away while Isiu went to wash, and I did not recognize the chaki who dropped how urgent he was. Jin Ha-kyung, who stopped by his house and went to work, was late for the morning meeting because he was using tight public transportation.
Jin Ha Kyung, who had been twisted since morning, suffered a headache all day. Fishermen who missed the crab catching season due to the wind warning that came into effect from that day have been complaining all day to lift it, and the marine police said that there is no answer if an accident occurs due to the waves. Han Ki-jun (Yoon Park), a spokesman's office informant who took charge of the complaint, chased Jin Ha-kyung and criticized him for not deliberately releasing the alarm to harass him.
Isiu was the only person who argued with Han Ki-jun on behalf of Jin Ha-kyung, and Isiu was also alert to the fact that Jin Ha-kyung had a fever and bought drugs. Jin Ha-kyung said, "What are you doing now?" Isyu replied, "I am in social life." "Do not worry, I do not want to go out with you once."
Jin Ha-kyung was busy with his work, but he was not busy erasing memories of Han Gi-jun, and one of the processes was selling items from his newlyweds to secondhand application and organizing his newlyweds. At this time, Jinhakyung was accidentally intertwined with Isiu and air purifier sellers and buyers, and Jinhakyung was embarrassed for a while and informed that he could not sell the goods soon after he came to the newlyweds' house to directly deal with air purifiers.
Isiu seemed to respect Jin Ha Kyung's decision and try to get out of the house, but soon asked, "I'll be the first to do a secondhand direct deal online?" The air purifier that he was trying to buy, as well as the limited edition speakers, are too cheap.
Isiu gave Jinha Kyung a trading tip such as the proper price line of the goods and gave him the product again, and Jinha Kyung listened carefully and focused on Isiu's face. Jin Ha Kyung recalled Isiu, who said, "I do not want to go out with you once," along with a heartbeat that throbbed, and asked, "Why?" Jin Ha-kyung was embarrassed by Isiu, who wondered at himself.
To Jinha Kyung, who had finished some deal, Isiu suggested, "If you thank me, do you buy rice?" So, Isiu and Jinha Kyung went to the nearby chicken house to do Chimak, and Jinha Kyung ran his heart again in the surprise heat of Isiu.
The problem was that the chicken house had two general managers and colleagues. Surprised, Jinha Kyung ran to the back door of the store while Isiu turned his colleagues' eyes, and asked Isiu, who followed him a while later, "Did not you get caught?" Jinha said to Isiu, "We had to hide because we were afraid of being caught?" "I was afraid of unnecessary misunderstandings. I do not want to be inflated by rumoring that there is something between the two. "
Isiu threw a fastball to Jin Ha Kyung, "Do you like me, Chief?" Then he replied to Jin Ha Kyung, "I do not like thumb." Jin Ha Kyung was embarrassed, saying, "Who is Thumta to you?" And Isiu asked again, "Do you want to go out?" Isiu said, "What, I do not want to go out with you once." He said to Jin Ha-kyung, who pinched his heart, "I can not say that I like it. If you like it, you're dating or you're going to. Which way, us?"