"Three kids in forty-four...Haha, Yoo Jae-seok and Kim Jong-guk declare a little escape ('Running Man')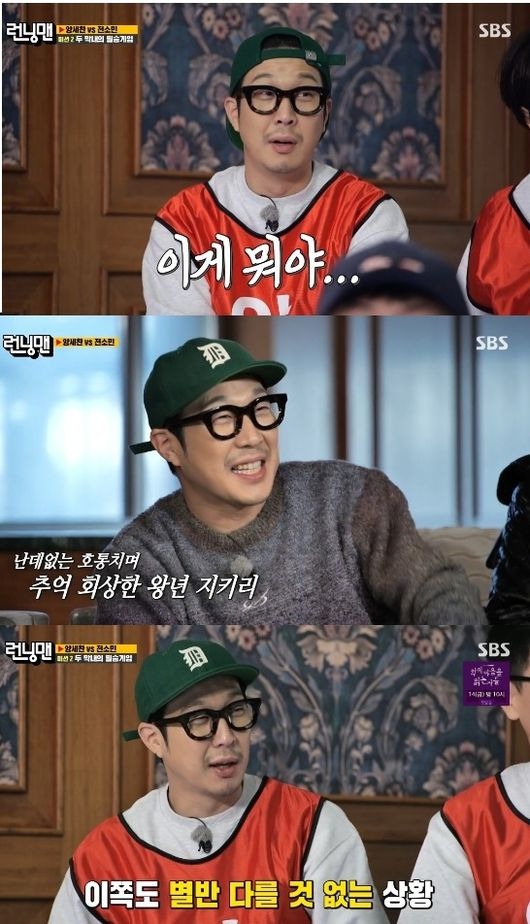 Broadcaster Haha showed off his entertainment ace-down side.
In the SBS entertainment program 'Running Man' broadcasted on the 9th, Haha participated in the 'War of the youngest' race, which selects the real youngest of Yang Se-chan and Jean So-min.
On this day, Haha said, "They are old too" in the story of the members that Yang Se-chan and Jean So-min are not the same as the youngest.
Kim Jong Kook asked Haha how old he was, and Haha said, "Forty-four. Fourty-four for three children. Please let go now." Yoo Jae-seok also emphasized to Haha, "He is old," and Haha complained, "He should not have five children. He will not be dead."
Yoo Jae-seok also said, "Where is Haha going to pretend to be a 'big boy'." "I just appeared in 'Music Bank' and I did it to Won Young, who saw MC."
Even in the time to decide the team before the full-scale race, Haha made the scene atmosphere pleasant by making a slug with Yang Se-chan, Jean So-min, or emitting pleasant energy with his unique cheerfulness.
Meanwhile, Haha said, 'Running Man', 'What do you do when you play?' We are actively engaged in various digital contents such as various entertainment programs and YouTube channel Haha PD 'Bottom Duo'.