Lee Gyu-hyung returns to musical 'Fan Letter'...genius novelist transformation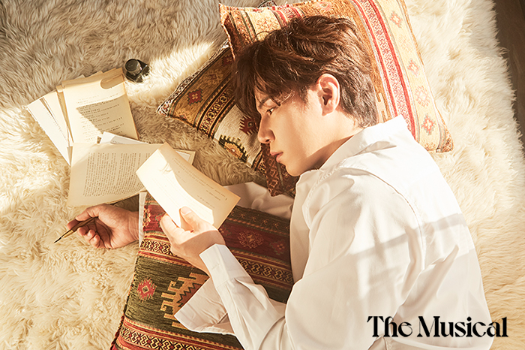 Actor Lee Kyu-hyung has decorated the cover of the February 2022 issue of The Musical, a monthly magazine specializing in musicals.
Lee Gyu-hyung caught the attention of those who saw it as a reminder of Kim Hae-jin, a genius novelist who loves literature, art and romance in the musical 'Fan Letter' in a pre-released picture on January 24th. In addition, his book, pen, and letter in his hand, and his thoughtful figure is attracted to the unique soft charisma and warm sunshine.
Lee Gyu-hyung started filming the picture as a fan letter craftsman who has performed his best performance as Kim Hae-jin in all seasons, starting with the premiere of the musical "Fan Letter" in 2016, reenacting in 2017, Samyeon in 2018, and this fourth performance, and completed the best cut with a faint eye and a skillful pose.
In addition, he said that he made the scene as an atmosphere maker all the time, but he made the scene staff's elasticity with the appearance of 'emotional craftsman' who changed the atmosphere quickly with the cue sign.
In the following interview, he focused his attention on the interview to be released by sharing his deep and serious stories about his works and acting with his musical 'fan letter' along with the filmography that he has accumulated as a 'major actor' Lee Kyu-hyung.
On the other hand, Lee Gyu-hyung, who has become an actor who believes in the stage as well as the screen and the room without the boundary of the genre, returns to the role of 'Kim Hae-jin' of the well-made creative musical 'Fan Letter' Even in the filmography, which continued its trend every day, without any gap, Lee Kyu-hyung did not miss the Fan Letter and showed a great affection for his work. There is a lot of interest in how Kim Hae-jin of Lee Kyu-hyung, who met again for the fourth time this year, will be expressed on stage. Lee Gyu-hyung is scheduled to perform his first performance of the musical fourth season at COEX Artium on February 5th.