Kim Eun-young "The Previous Husband is already in the Organized State...Understanding and Prejudice" (Doll Singles2)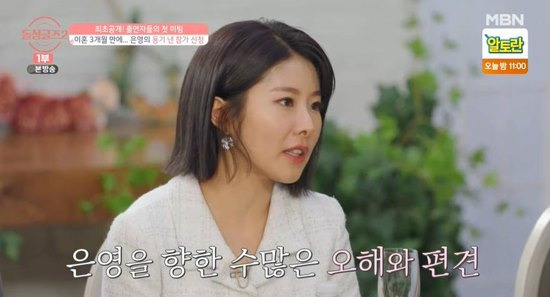 In the final episode of the MBN entertainment program Doll Singles2, which aired on the 9th, the meeting between stone-singing men and women Kim Gye-sung - Kim Eun-young - Kim Chae-yoon - Yoo So-min - Yoon Nam-ki - Lee Da-eun - Lee Duk-yeon - Li Chang-su and 4MC Lee Hye-young - Yoo Se-yoon - Lee Ji-hye - Jung Gyu-woo was drawn.
In the video, Kim Eun-young said, "The excitement came up and I supported my curiosity." In addition, Kim Eun-young has expressed all his questions about 'Doll Singles 2'.
Kim Eun-young mentioned Jang Hyuk as an entertainer, citing the man as his favorite reason style. "I like a body that is wide and has a lot of body even if it is not muscular."
Lee Ji-hye told Kim Eun-young, "It seems that 'Doll Singles 2' was not an easy decision to make. I would have been psychologically difficult and needed to sort out in the third month of divorce, but I thought I should come out to forget it. "
Kim Eun-young said, "I misunderstood a lot about my husband and my arrangement. I had a lot of words that I went out before the ink was dry." My parents are so opposed that I made the artist a lot harder. "
Lee Ji-hye said, "We thought about it, too. It was three months after the divorce, but I wondered if Eun-young had finished the arrangement for a long time starting from the arrangement of his mind until he came out. I think it was much better because I was brave and came out. "
Kim Eun-young said, "I can not help but wonder about the reason for the divorce. But I guessed so much that I broke up with a man. I want to say that it is not like that. "
Photo: MBN Broadcast Screen Capture