Next year, Ulsan National Sports Promotion Ambassador, Singer Kim Da-hyeun and Fencing Park Sang-young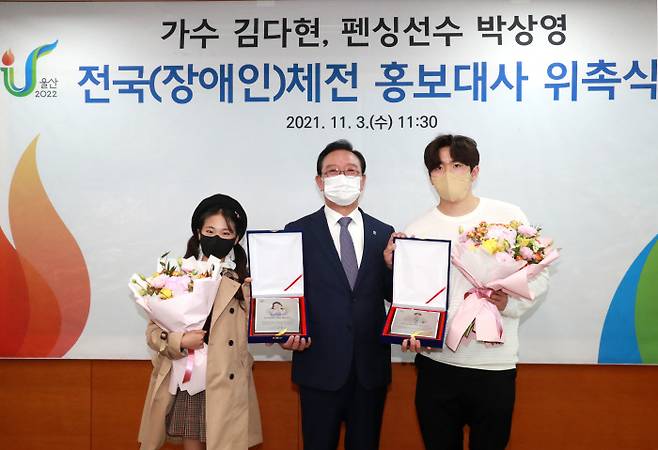 The Ulsan National Sports Planning Team said on March 3 that it has appointed singer Kim Da-hyun and fencing player Park Sang-young as ambassadors for the 103th National Sports Festival and the 42nd National Sports Festival. The ceremony was held at the meeting room of the mayor of Ulsan City Hall.
Kim Da-hyun is a singer and Chrysanthemc, and has recently been attracting attention as a trot star, ranking third in a trot contest program. In this program, he was greatly loved by Ulsan Arirang, and he was also appointed as an honorary citizen of Ulsan on Ulsan Citizen's Day held on the 1st of last month.
Fencing player Park Sang-young is a member of the Ulsan City Fencing Unemployment Team, who won the final of the 2016 Rio Olympic Games and impressed the people. At the Tokyo Olympics held this year, he has won a bronze medal in the team.
After the ceremony, they will start their first activities by visiting the general playground, which will be the main stage of Ulsan National Sports Festival and the National Disabled Sports Festival next year, and filming SNS promotional videos.
It will attend major events in the national championships, including the D-100 Day celebration, and will encourage citizens' interest and response to the event through various activities.