'Going to Blue House' Kim Sung-ryung & Hak-ju Lee, serious + covert conversation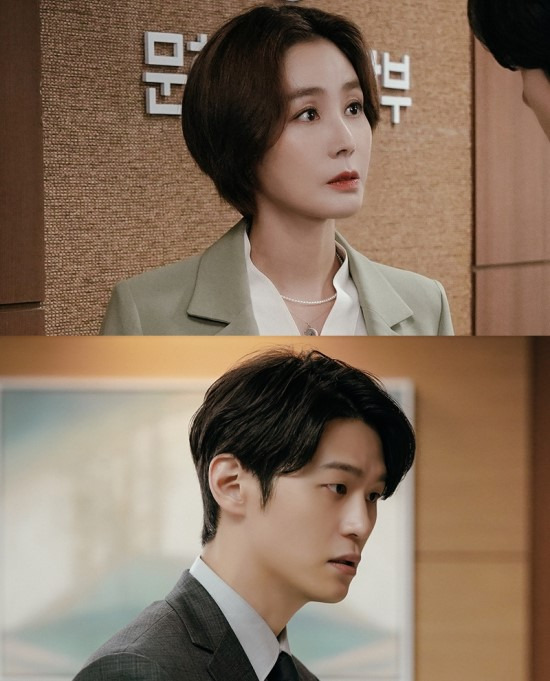 Wave original drama Go to Blue House (hereinafter Going to Blue House) released on the 12th will last a week when Celeb Lee Jung Eun (Kim Sung-ryung), a former Olympic gold medalist appointed as Minister of Culture, Sports and Tourism, confronts the kidnapping of her husband, political critic Kim Sung-nam (Baek Hyun-jin), It is a political black comedy drama that unfolds a funny and realistic real satire in the background.
Kim Sung-ryung took on the role of Lee Jung Eun, who became minister of the Ministry of Culture and Sports at the same time, Lee Jung Eun is a person who wants to realize the ambition that has been long ago by taking the unexpected situation as an opportunity.
Hak-ju Lee divides Lee Jung Eun's trust into a performance secretary Golden Harvest with. He was originally a henchman of Cha Jung Won (Bae Hae Sun), but after meeting Lee Jung Eun unexpectedly, he shows a strange loyalty to her.
Lee Jung Eun and Golden Harvest with are suspicious of each other while relying on each other, raising questions about their unpredictable relationship.
On the other hand, Lee Jung Eun and Golden Harvest with (Hak-ju Lee) in the steel released on the 1st are exchanging conversation with serious faces and stimulate curiosity. Golden Harvest with a rigid look shows something in his cell phone to Lee Jung Eun. The appearance of the two people who create an uneasy airflow makes them guess the crisis that came to them.
In addition, Golden Harvest with tells Lee Jung Eun an unexpected story and surprises her, adding to the interest. It is noteworthy that what is the identity of the dark shadow that threatens Lee Jung Eun and how they will overcome the crisis.
Kim Sung-ryung and Hak-ju Lee, who will create a sweaty tension in their hands and give unique fun, can be seen in the Blue House as long as they are released at 11 am on the 12th.
Photo: Wave