'a man who looks like you' Jae-young Kim behindcut, Ko Hyun Jung X Shin Hyun Bin captivated Ma Sung Nam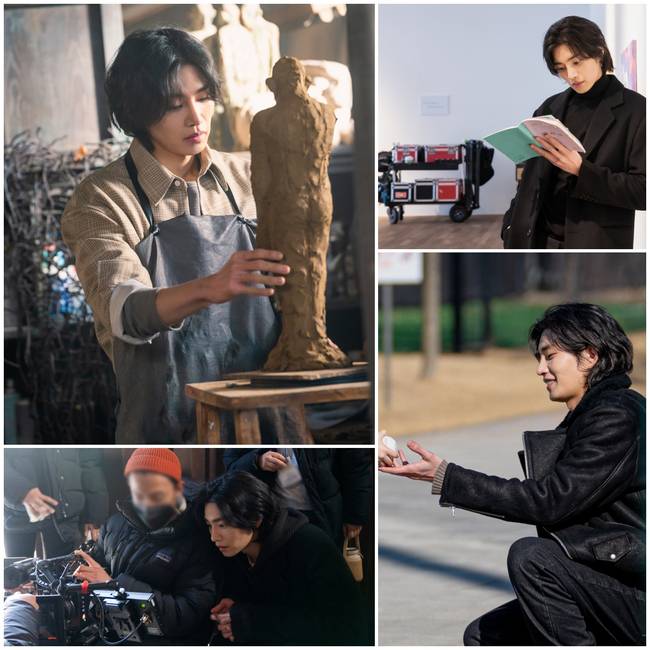 Actor Jae-young Kim, who plays the role of Sekretty but fascinating man Seo Woo-jae in the JTBC drama 'a man who looks like you' (playplayed by Yoo Bo-ra, director Lim Hyun-wook, production Celltrion Entertainment, JTBC Studio), captivated the attention with a behind-the-scenes cut that is quite different from the atmosphere in the drama. I do.
Seo Woo-jae, the past lover of the main character Jung Hee-joo (Ko Hyun-jung), and the main character of The Secret, which Hee-joo wants to hide most, was originally a senior and fiance of the former Umizaru (Shin Hyun-bin). However, he left for Ireland together in love with the joy he met through Umizaru, and Umizaru, frustrated by Woo Jae's disappearance, was ruined for many years. Woo Jae, who had been abandoned by Hee-joo and lay in a coma in Ireland for a long time, returned home after discharge, but has a confused daily life because he has no memory of the past due to the aftermath of the accident.
The behind-the-scenes cut released by the production team of a man who looks like you featured a variety of images of Jae-young Kim, who is in charge of such a turbulent figure Seo Woo-jae. Actor Jae-young Kim looks sharp and lonely, but he changed his hairstyle and prepared to shoot in order to express the sculptor Seo Woo-jae, who shakes his emotions with perfect visuals. For more than two months, I tried to learn paintings and sculptures myself.
Jae-young Kim in the behind-the-cut cut perfectly melted into the role as a sculptor, Seo Woo-jae, skillfully making clay. In addition, during the filming in the gallery, I looked at the script every time I took time, and I was able to monitor the shoot carefully with the staff. Unlike Woojae, who has little to laugh in the drama, Jae-young Kim, who is laughing all the time, always gives a warm feeling to the daily life of Woojae in serious drama.