Nam Bo-ra "13 eldest daughters grievance, brother first sent to heaven and then crisis of life" (Gold Counselor's Office)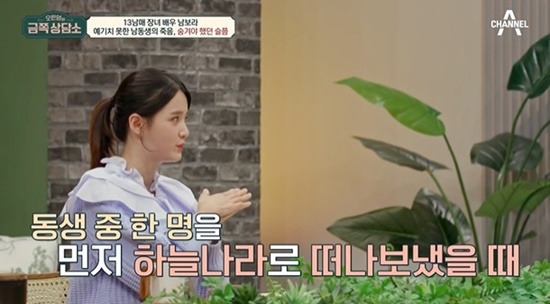 Nam Bo-ra appeared on Channel A 'Today is pool's golden counseling center' broadcast on the 29th.
On this day, Nam Bo-ra said, "It is not my choice to be my eldest daughter, but I thought it was hard to live my life as a eldest daughter. My sisters call me "Mummy (Mommy + Sister), I just want to live as a child of one person, and I am the one who can give something to my sisters right away, and my sisters follow me. So it's now. (From the time) I did well in childcare, I think I learned well because I was quick to learn," he said.
Today is pool, who heard Nam Bo-ra's story, said: "There's a situation where we can't help living, we can't choose which parents we're born under. "I would have coexisted with the tendency to pursue the responsibility and initiative of my eldest daughter," he said. "Did you have the biggest crisis in your life?"
Nam Bo-ra said, "There was a really big crisis, there was such a thing that I had to send my brother first, and I could not cry when I went home. My parents were so hard that I stayed in a tight spot. "
Today is pool said, "The sad heart should be sad, but I would have thought that asking it in the heart and pretending not to be sad is to build up and empower my sisters. It would have been hard," he comforted.
"After my brother left the world, did I ever think about what I was doing alive?" He said, "I have heard it often since then. Before that, I had the idea of ​​'I want to finish it all', but it was not serious. In fact, computers do not rest when they turn off the power button. But when a person's life kept working without a power button, I envied the computer that was going off at some point. After that, I thought more about death. "
'Today is pool's golden counseling center' is broadcast every Friday at 30 pm.
Photo = Channel A broadcast screen